Full Name:
Kingston Legrand
Alias/Epithet:
Le grand
Age:
32
Gender:
Male
Race:
Human
Sexuality:
Straight
Origin:
North Blue
Affiliation:
Pirate
General Appearance: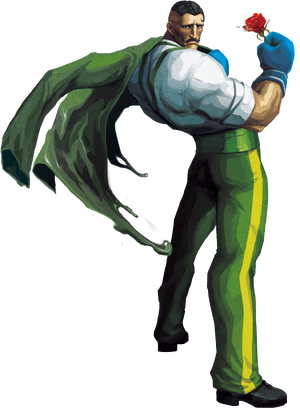 Kingston is a well-built, dark-skinned Briton with sea-blue eyes, sporting a pair of green dinner suit trousers with matching green suspenders and cummerbund as well as a white dress shirt that is frilled at the placket. He also dons a green bow tie and a pair of elegant black dress shoes. His muscular frame is visible even through his clothing. He keeps his black hair tidy while grooming his moustache into an old-fashioned handlebar style.
He fights with a pair of blue boxing gloves, which (aside from alternative costumes) he never seems to take off till he considers the situation a threat. He wears them when reading his newspaper, tending his roses, drinking his tea, and even when fixing his moustache.
Hair Color:
Black
Eye Color:
Sea-Blue
Skin Tone:
Dark
Height:
2.41 Meters (7'9 feet)
Weight:
282 Kilograms
Tattoo:
None
Personality:
Kingston is polite, gentle, restrained, and always behaves as an impeccable gentleman and has immense respect for all his opponents. He particularly dislikes truly dirty fighting and rude people, but still, he isn't opposed to killing other people. He doesn't avoid it either. Kingston isn't a person who enjoys insulting, he never does but he does make constructive comments and sometimes harsh comments, but he also occasionally does sarcastic jokes. With his crew he is always supportive, never letting behind any of his partners, even if he sucks at remembering names. His polite, gentleman nature has made him a person with a small level of obsessive-compulsive disorder, which he is conscious about and tries to fight day by day. He also is very open-minded, not minding much about what goes through the other's head but only thinking about the impact that will have directly with him, so he can sometimes be kinda selfish but always supportive.
When in battle, he likes to make comments about the fight, like if he was narrating it and at the same time correcting his opponent's mistakes which can sometimes be kinda annoying. Even if he is physically big he doesn't always enjoy physical fighting since that could tousle his mustache, which is why he usually tries to fight with his ranged abilities.
Personality Quirks:
Kingston has a particular laugh, loud and slow that he likes to overuse each time he makes a joke or a funny comment. Sometimes that is the only way to know if he is joking after saying some random thing.
Likes:
-Tea
-Barbershops
-Order
Dislikes:
-Beer, ron or any other aalcohol. He only drinks alcohol with tea.
-Weapons
-Disorder
Motivations:
-Kingston's motivation is to bring joy to himself through order. To him, the only way of achieving this is to gain control over the seas.
Fears:
-Growing up: Becoming older means less time of living and less time to achieve his goals.
-Being too small: Kingston used to be a very small baby, that kinda traumatized him and now seeing bigger opponents makes him feel insecure.
-Hairy feet: That is just nasty, even if the hair is combed.
Home Town:
Lvneel Kingdom
Character History:
Maybe later
Face Claim:
Dudley - Street Fighter
Voice Claim:
Dudley - Street Fighter