"What's that? Can I play with it?"
Full Name:
Lazuli Eden Bones
Alias/Epithet:
Laz
Age:
19
Gender:
Female
Race:
Beast (fox)
Sexuality:
Straight
God:
Chronos
Origin:
Ventari
Crafting:
Seamstress
Class:
Mystic Monk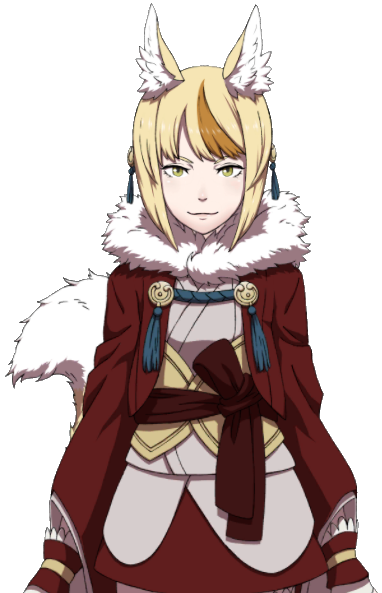 General Appearance:
Lazuli has a thin, sleek figure with a modest bust. Fox ears are easily visible atop her head and a large bushy tail sprouting from just above her rear.
Her hair doesn't quite reach shoulder length. Her tail is about 3 feet long, the fur the same blonde as her hair except for the four inches at the tip which is white.
Her  mostly form-fitting attire consists of mostly handmade clothing. She wears white wrappings for undergarments. Above this she wears a white tunic, a final layer of a red robe, cut off at the waist. A large red ribbon tied across her waist instead.
When around public places she keeps her head down and avoids eye contact, acting nervous and unsure around crowds. When away from crowds she often seems playful and childish as she tends to run around with a big smile on her face.
Hair Color:
Blond with a streak of dark brown above her left eye
Eye Color:
yellow/golden
Skin Tone:
Pale white
Height:
5'6"
Weight:
122lbs
Tattoo:
None
Personality:
Lazuli is a generally upbeat and curious person, always happy to explore and learn about new things. Perhaps even more, she loves showing off things that she has learned to others, getting a boost to her ego when someone is impressed. Because she loves discovering new things she often gets bored if she stays in one place for too long or can't explore a new environment for some reason.
While she's not shy about asking a total stranger questions about what they're doing, she does get nervous and defensive in large crowds like town gatherings or in large cities, mostly from fears of being snatched away by kidnappers or something because of stories she's heard.
Lazuli holds a strong belief that one should always help someone who is in danger or requests help. If she sees a problem she wants to show off her cleverness to solve it, even when it has nothing to do with her. It takes something incredibly dire, like the life of a chiled being on the line, for her to take most situations seriously. She tends to see fights as a game or opportunity to learn new things about whoever she's fighting.
She has a love a children, finding she gets along with their more playful innocent attitudes than with more serious grown ups, often playing with groups of local children when visiting towns.
When scolded or mocked, often for her race by humans, she grows dejected and tucks her tail between her legs. Though she does feel emotional pain, she will often later say she was only pretending to be sad to trick people.
Personality Quirks:
Is easily distracted by and follows the smell of cooking meat, often sitting down to watch it cook. If cooking takes too long she begins to drool. Requires sudden physical contact or sudden noise to snap out of it once she's started drooling, or to be given some of the meat.
Likes:
Cooked meats, having her ears rubbed, finding new things.
Dislikes:
Having her tail pulled, being denied praise, large crowds.
Motivations:
Lazuli desires to discover all the world's greatest secrets. Mysterious islands, rare creatures, hidden treasure and forbidden magic, she wants to see it all! One of her goals is to learn about the mysterious Time Magic supposedly given as a gift from Chronos.
Fears:
Being kidnapped, cages and other small enclosed spaces, starving to death.
Home Town:
None, Nomadic,
Character History: Face Claim:
Selkie - Fire Emblem Fates
Voice Claim: